You can view the famous Christmas tree in Rockefeller Center through the holiday season.
One of the most ubiquitous symbols of Christmas is the Christmas tree: an evergreen tree decorated with ornaments, lights on strings, and a star or angel on the top. This custom began among observers in sixteenth-century Germany, whose culture already considered evergreen trees signs of good fortune for their ability to stay alive through the winter cold that had killed all the other plants.
Households, naturally, lean towards smaller trees, but the most famous Christmas tree in the world stands in Rockefeller Center! The first of these spectacular trees were decorated and lit in the 1930s, as symbol of hope for New Yorkers as they suffered through the economic woes of the Great Depression, and over ninety years later, they still stand as a fun and beautiful tradition.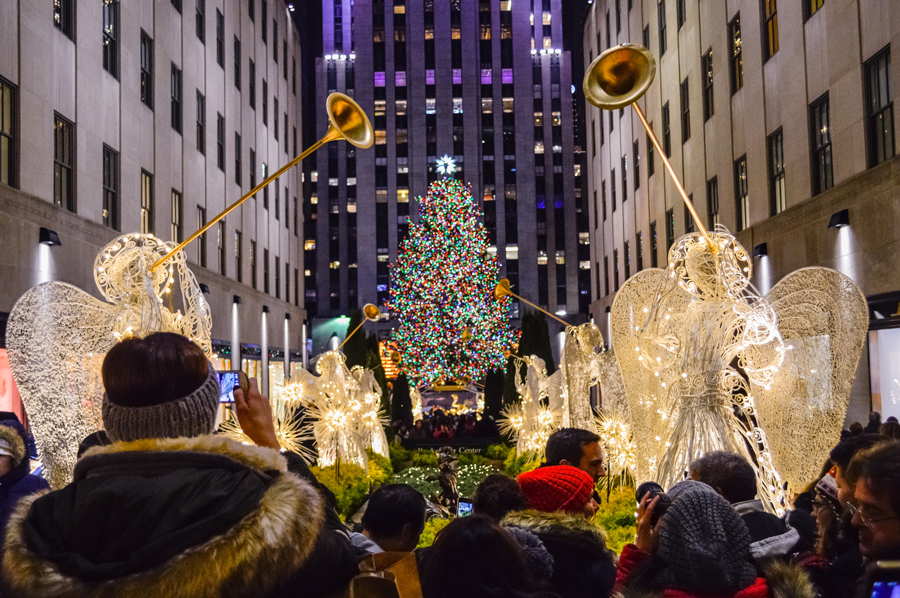 Every year, a massive Norway spruce is chosen by the Center's head gardener, stood up in Manhattan's Rockefeller Center, and lit with grand ceremony in a televised event. This year, the lighting fell on Wednesday, November 30, and its ceremony included musical performances by Gwen Stefani, Blake Shelton, Katherine McPhee, Alicia Keys, and several other artists. If you missed the initial lighting, never fear: you can view the tree via ongoing livestream here.
The tree stays lit daily from 5:00 AM to 12:00 AM most days. On Christmas Day (December 25) it will be lit for 24 hours straight, and on New Year's Eve (December 31) it will be lit from 5:00 PM to 9:00 AM. Though the first official lighting of the tree is a ticketed event, afterwards anyone can go and visit free of charge. The tree is usually removed (at which point it will be used for lumber) at some point in January; you can keep track of its availability on Rockefeller Center's website.