The answers to some of the most frequently asked questions about navigating COVID-19 as a J-1 Exchange Visitor.
Since the COVID-19 pandemic first hit the United States in March 2020, New York City has been a hot spot for the coronavirus. While with vaccinations and new treatments such as Paxlovid, hospitalizations and deaths have slowed considerably, the city still sees over 3,600 new cases daily and transmission levels are still high. Residents should still exercise safety precautions such as wearing masks, especially indoors and in crowds, and getting vaccinated against COVID-19.
You likely have questions about what the current COVID-19 climate means for you as a J-1 Exchange Visitor. Here are the answers to some of the most commonly asked questions of this nature.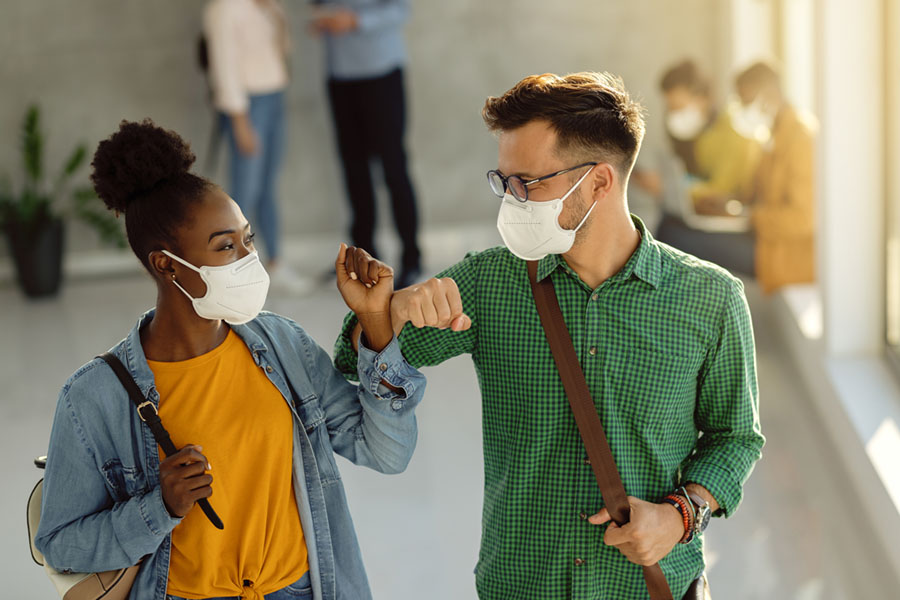 I am a physician applying for my J-1 Exchange Visa. Can my Statement of Need (SoN) be waived due to the pandemic?
No, it cannot be waived. You are required by law to provide a Statement of Need letter from the government of the country of your most recent legal permanent residence, which assures the United States Department of Health and Human Services that there is a need in that country for the skills you will acquire during your time in the U.S.
However, there is some flexibility to this requirement due to the pandemic. For instance, SoN letters must be signed by a duly designated government official and bear the seal of that government, and typically must be provided by the Ministry of Health. The Department of Health and Human Services is temporarily allowing electronically signed letters and letters provided by authorized foreign embassies in the U.S.
If you already have an SoN letter for your specialty on file with the Educational Commission for Foreign Medical Graduates (ECFMG), you do not need to submit a new one. You can contact ECFMG with questions or concerns at EVSP-support@ECFMG.org.
I am in a research/training program at my host organization/school. Do I need to be physically on-site or can I complete my program online?
Most likely you will need to be physically present at least part of the time. It depends on whether your host organization or program offers a hybrid (mix of virtual and in-person activities) model. Consult with your host organization or program to learn more about their current approach and whether you are eligible to participate in a hybrid model.
The Bureau of Educational and Cultural Affairs (ECA) has ruled that programs for current, active-status exchange visitors must remain consistent with the original program regulations even while modifying the program to contend with circumstances beyond the host organization's control, such as the pandemic, and continue to meet their obligations to exchange visitors.
Through June 30, 2023, sponsors may offer a limited hybrid option consisting of one to two telework or online class days per week for programs of the following exchange categories: College/University Student (Academic Training and Student Intern), Research Scholar, Short Term Scholar, Intern, and Trainee.
Fully or predominantly virtual exchange programs are not permitted. New exchange visitors can only participate in programs if their host organizations have resumed partial to full in-person activities.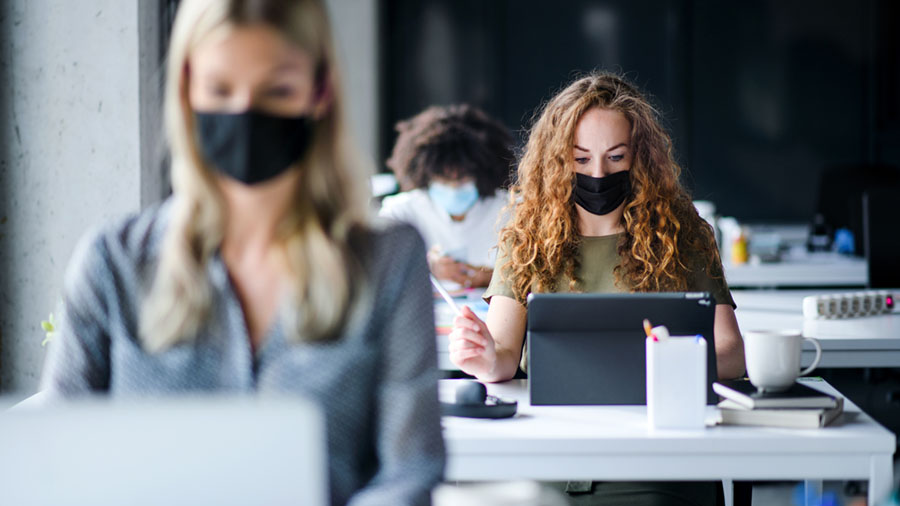 I am a local coordinator for J-1 Exchange Visitors. For the 2022-2023 academic year, can I substitute in-person vetting of monitoring of exchange students and their host families with virtual communication?
Vetting and monitoring of exchange students and their host families is necessary to maintain the health, safety, and welfare of exchange students. Due to the nature of these checks (e.g., initial interview, orientation, first month's contact, second home visit), in-person contact is required.
While these procedures were limited at the beginning of the COVID-19 pandemic, now that protective measures such as vaccines, masks, and testing are widely available, the in-person requirement has been reinstated.
Exceptions will only be made in the event that the local coordinator, exchange student, or a member of the host family tests positive for COVID-19 or comes into close contact with somebody who has tested positive, and in-person contact would be hazardous to the health of the other participants. Sponsors may conduct virtual visits temporarily until in-person contact can safely be resumed.
Sponsors must fully document the reason for meeting virtually and everything they have done to meet the requirements of the visit while meeting virtually (such as recording and saving video files) and be prepared to present all this information to the Department should it be requested. In addition, they must reschedule the in-person visit as soon as it is safe to do so.
As a sponsor, can I forgo criminal background checks if county offices are closed and I cannot conduct manual searches?
No. Sponsors are required to conduct character reference checks and background checks on all J-1 Exchange Visitors. However, regulations do not identify specific requirements for criminal background reports themselves, except that for certain programs they must include a search of the Department of Justice's National Sex Offender Registry, which is online.
Complete reference and background checks as thoroughly as you can using only online/virtual resources.
As a J-1 applicant, if I have been issued a J-1 visa in the past 48 months, do I qualify for an interview waiver?
Yes. If you have been issued a J-1 visa in the past 48 months, you may potentially qualify for an interview waiver if you apply for a new one.
The Secretary of State extended previously approved policies to waive the visa interview for academic J visa applicants through the end of 2022, contingent upon the consular officer's choice and pursuant to local conditions. Waived in-person interviews may be appropriate if the applicants previously were issued any type of visa, have never been refused a visa unless such refusal was overcome or waived, and have no apparent ineligibility or potential ineligibility.
In addition, the Department has temporarily removed the requirement for J applicants to have the same SEVIS number in order to qualify for the waiver, when they are reapplying for the same category, though you must continue to present a new Form DS-2019 ​and pay the appropriate visa application processing fee.
Check the current requirements and guidelines of your U.S. consulate or embassy to confirm their current procedures and your eligibility, or visit the website of the U.S. Bureau of Consular Affairs here.
As a J-1 Exchange Visitor, what do I need to do regarding COVID-19 testing and vaccination before I can travel?
As of June 12, 2022, the Center for Disease Control and Prevention (CDC) lifted its requirement for all aircraft passengers to show a negative COVID-19 test or proof or recovery from COVID-19 before boarding their flight from a foreign country to the United States. However, all non-citizen nonimmigrants are still required to show proof of vaccination against COVID-19 to travel to the United States.
If you received a brand of vaccination that is not on the approved list of the United States Food and Drug Administration (FDA) or World Health Organization (WHO), you are most likely not eligible to enter the United States.
Nonimmigrants are required to be fully vaccinated to apply for admission to the U.S. You are only considered fully vaccinated in the United States if you received one or a combination of the FDA-approved or authorized vaccines, or vaccines with an emergency use listing (EUL) from the WHO. However, some exceptions can be made for applicants from countries that the CDC has determined to have limited availability of COVID-19 vaccines, on the condition that they be vaccinated within 60 days of arrival in the United States.
For more information you can visit the CDC website here.
For how long is a visa application fee valid?
A nonimmigrant visa application fee receipt is valid to make an appointment until one year from the date of payment. This payment is nonrefundable and non-transferrable.
My J-1 exchange visa has expired and I've departed the United States. Can I apply for another visa to reenter the U.S.?
Yes, if you are currently still in "active" status and if the program dates on your Form DS-2019 are still valid. Check here and here for information on the resumption of visa services as they apply to your country.
Can I renew my J-1 visa without traveling back to my home country?
If you are currently in the United States and actively participating in your program, you can remain in the U.S. even if your visa expires so long as you don't plan to travel outside the country. If you travel outside the U.S. after your visa has expired, you must apply for a new J-1 visa to reenter the U.S. and continue your program.
As a sponsor, what should I do if one of my J-1 Exchange Visitors is having trouble returning to their home country due to lack of commercial flights/travel restrictions/etc.?
You should encourage your exchange visitor to contact the U.S. embassy of their home country for assistance. Help them in doing so if necessary, and also encourage them to keep documentation of their efforts to exit the United States before the end of their grace periods. If necessary, you should also contact the appropriate branch of the Office of Private Sector Exchange Program Administration:
If you have any further questions or concerns, please feel free to contact us at info@gravityintprog.com. Stay safe and healthy!